Airlie Beach Accommodation Packages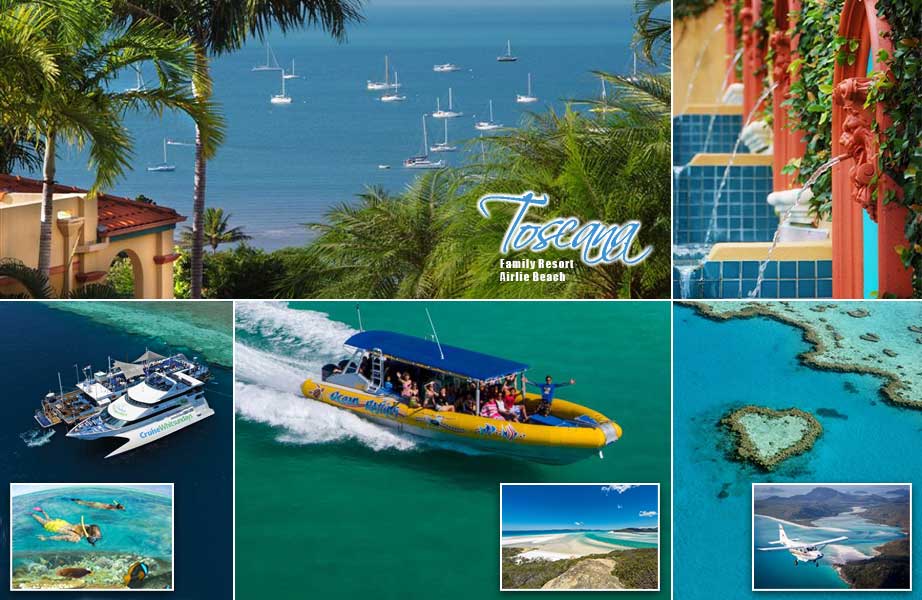 3 Nights Ocean View + Tour Package
3 nights ocean view accommodation in Airlie Beach + Great Barrier Reef + Whitehaven Beach, Hill inlet and snorkeling + Scenic flight over heart Reef and islands
Day 1 - Departing Port of Airlie, you cruise through the Whitsunday islands to the outer Great Barrier Reef to enjoy one of the world's most stunning natural attractions. Fun free activities to see the colourful coral and prolific fish life include snorkeling, an underwater observatory, and a semi-submersible submarine. Morning tea, afternoon tea and a sumptuous buffet lunch are included. Day 2 – you are collected from Toscana Village Resort and taken to the Whitsunday airport to board your plane for an amazing aerial view of the Whitsunday islands and Barrier Reef out to see the iconic Heart Reef. After the flight, you are dropped at Abel Point marina to board your vessel for a fun ocean rafting cruise to Hill inlet lookout and Whitehaven beach. This is a beautiful beach for swimming and relaxing. Lunch and wetsuit or sun suit hire is included. Please phone us on 07 4946 4455 to help you secure this great little getaway
book online
contact us
---

Villa Botanica - Wedding Accommodation Packages
Villa Botanica - Wedding Accommodation Packages
Attending a wedding at one of the Whitsundays most prestige wedding venues "Villa Botanica", well contact us today with your unique wedding code to find out more about our special accommodation packages available.
We can cater for couples to large families in our range of 1, 2 and 3 bedroom self contained ocean view apartments.
book online
contact us
---

Whitsunday Romantic Getaway
Looking for a romantic getaway ? How about coming to the magical Whitsundays.
Enjoy three nights in an ocean view apartment with sparkling wine & nibbles platter on arrival. Next day you are in for the ultimate reef and Whitehaven experience with a seaplane flight over the world famous Heart Reef and landing on a private pontoon for snorkelling and coral viewing. Enjoy the sparkling expanse of the Whitsunday islands national park and the Great Barrier Reef marine park from the air before landing for a leisurely stroll and swim on the iconic Whitehaven Beach.......... Last morning enjoy a lazy long 3 course breakfast Contact us today for our current prices
book online
contact us
---

February and March Specials Airlie Beach
Do you want 2 free nights in Airlie Beach?
1st February to 31st March, Toscana offers 2 bonus free nights when you pay for 5 Save $ on accommodation to spend on fun and adventure experiencing the Great Barrier Reef, sailing in maxi yachts, game fishing, jet ski safaris, crocodile safaris, parasailing, resort island hopping... So many adventures... just waiting.
book online
contact us
---

Wedding Accommodation Holiday Package
The Whitsundays is such an iconic destination, we suggest you take a few extra days and combine the special event and make a great holiday experience.
Spacious ocean view apartment style accommodation, centrally located just 200 metres walk from cafes, restaurants and shops.
We have combined 5 nights accommodation with two of the most popular local tours to give you a taste of the Whitsundays.
After a lazy sleep in following the 'big event' - how about a relaxing afternoon cruise over the the amazing Whitehaven Beach with its miles of pure white silicon sand and crystal clear waters. Just the perfect antedote for 'the day after'
A twin island tour visiting Daydream Island with its wonderful living coral garden, fish and stingray feeding display, beautiful walks and lots of water activities. A very pretty little island resort and highly recommended.
Then enjoy a 30 minute cruise to Hamilton Island for a delicious lunch. Feel free to explore the island using the Shuttle bus service. Perhaps a visit to the Wildlife sanctuary, stroll around the shops, visit the galleries or try the bowling alley.
**Contact us today for our current prices**
book online
contact us
---

Airlie Beach getaway for family and friends
Would you like to share chatter, wine/ beer and nibbles?
Stay any three consecutive nights and share conversation, amazing views and a $100 beer/wine and tapas platter with friends. Price is for up to 4 people in a two bedroom apartment for three consecutive nights. Stay midweek and receive a further bonus of $100 discount of the accommodation
book online
contact us
---

Whitsunday - the Complete Works Package
Do the Whitsundays - the Complete Works Package
5 nights ocean view apartment central Airlie Beach location - 200 metres to beach, cafes, restaurants.
Enjoy an afternoon cruise to the world famous Whitehaven Beach with its spectacular white silicon sand. Swim in the pristine clear water take a stroll along the beach or just relax and soak up the sun.
The following day is your cruise to the Great Barrier Reef, take a semi submarine cruise to view the amazing coral, swim and snorkel with the fish and enjoy a delicious buffet lunch
The next morning you are off to visit Daydream Island where you will see the living reef lagoon and public fish feeding daily at 10am and then you will travel to Hamilton Island where you will have time to enjoy lunch at the Marina Tavern and relax by the pool.
Contact us today for our current prices - this package is available to families and couples.
book online
contact us
---
Landing pages
3 Nights Ocean View + Tour Package
|
Villa Botanica - Wedding Accommodation Packages
|
Whitsunday Romantic Getaway
|
February and March Specials Airlie Beach
|
Wedding Accommodation Holiday Package
|
Airlie Beach getaway for family and friends
|
Whitsunday - the Complete Works Package
|
instagram
#toscanavillageresort
awards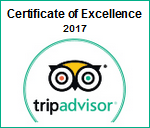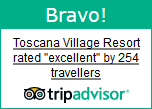 Toscana family Resort ~ Airlie Beach accommodation
Australia 1800 555 684 International +61 7 4946 4455
10 Golden Orchid Drive, Airlie Beach QLD 4802 Australia